Proven Track Record
Highlights as Mayor of the Village of Greenwood Lake
The following has been accomplished through the hard work and dedication of our staff and supportive Village Board:
Youngest elected Mayor in village history at age 27
3rd longest serving Mayor in village history
Village record voter turnout in first election becoming Mayor
10 years with no contested races for Mayor or any of my Board members
Turned water fund operating deficit into a surplus within 3 years as Mayor.
General operating budget debt when I took office was nearly $2 million. By the end of this year, the total debt will be less than $200,000. Fund balance remains strong in both general and water accounts.
Successfully passed a comprehensive in-house Comptroller audit for procurement
Secured more than $5 million in grant funding to support the following sectors:

Police
Water Treatment
Lake cleanup and maintenance (Lake has never been cleaner in recent history!)
Youth
Seniors
ADA accessibility
Park upgrades
Park purchasing and creation
Sidewalks and infrastructure
Road paving and maintenance
Audio visual equipment for public meetings
Tourism, fireworks and celebrations

Created three new public parks:

Took a vacant and overgrown piece of property located at our Village gateway and turned it into a fully grant funded passive boat launch and public park.
Created a public and private partnership to construct the Village's first stand-alone public dog park. Park is fully managed and maintained by the newly created 501c(3)
Formed a public and private partnership to create a fully self-sufficient community garden. Park is fully managed and maintained by a newly created 501c(3)

Repurposed the old firehouse in our downtown to create a fully stand-alone teen and community center.
Created the very successful Lakeside Farmer's Market
Was among the first municipalities to create a law addressing short term rentals (Air BnB)
Created nearly one full mile of new curb and sidewalks at 3 of our 4 village gateways connecting the downtown almost entirely with sidewalks
Paved roughly 50% of all Village roads with real asphalt over the old model of "tar and chip"
Converted nearly 50% of our active police fleet to semi-hybrid vehicles saving tens of thousands annually
Converted 25% of our streetlights to LED saving the village thousands of dollars annually
Advocated for and achieved police coverage in our local schools
Improved and streamlined technology for village services: Online building department data, credit card processing for taxes and water bills, payroll processing outsourced saving thousands of dollars in time while providing greater access to reporting and oversight for more efficient management of services and overtime costs.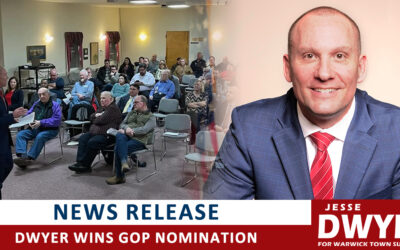 The Town of Warwick Republican Committee overwhelmingly nominated Greenwood Lake Mayor Jesse Dwyer...
read more